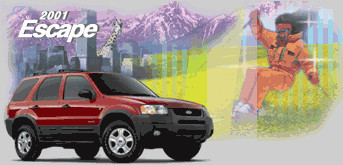 Welcome to ESCAPE-CENTRAL!
Dedicated exclusively to Ford's newest SUV!


Watch for Exciting changes coming here soon!

---
GENERAL SITE NEWS AND UPDATES
Please post escape related comments or questions at our MESSAGE BOARD!
Please read our FAQs before sending email...We have received slews of messages asking for accessory catalogs (does anyone really know what a slew is?). Please check with your local Ford dealership, the accessory catalogs are now readily available. If your dealership does not have one, you can get that great looking brochure by calling Ford at their 800 number.
---
We've added a recall list and will be updating it again shortly. Rumours now are that FORD may issue an official recall for the Fuel Smell problem. They have already issued a TSB (technical service bullitin) regarding this problem, but many owners are not aware of the existence of the bullitin.
---
Our site has aquired a copy of the Ford Escape Accessories brochure. and we'll be scanning it and putting it up within the next week. The Silver Escape was featured in the catalog. Supposedly, Toreador Red and Parchment gold will not be offered in the 2002 Model year and will be replaced with silver, and a livelier shade of blue.
---
Well, it looks like my server extensions have magically gotten corrupted on tripod's servers again, so I'm having to FTP updates until I find another web host. Look for Escapecentral.com in the future. :)
There are fixes for the recall now, so hopefully we will see more Escapes on the road. However, two more recalls have been issued, one for a problem with the fuel line, and a problem with the XLS 2wd model. Check QUICKNEWS for more info on these recalls.
Darce got to take delivery of her Escape Sept 8. After driving it, all I can say is WOW!!! All of you who've ordered Escapes will NOT be disappointed! The Escape is a smooth ride, with no more wind noise than any other vehicle. (What do you expect for the price? A lexus?)
Note: The dealer did inspect her Escape for the fuel line problem and it was okay, so it doesn't necessarily mean all Escapes have the defect.

---
---
DISCLAIMER: This is a personal site and is not affiliated with Ford Motor Company or any Ford Dealership. If you have questions regarding availability, pricing, specific options, please post them to the message board or contact your local Ford dealer.

There have been

FastCounter by bCentral


visitors to this site since 6/04/00